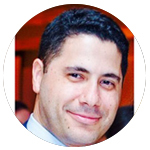 Fourat Shamoon
Senior Investment Officer
As Senior Investment Officer, Fourat is responsible for sourcing, evaluating, executing and managing investments made by the firm.
Fourat has over a dozen years of principal investing experience, and has been involved in over a half a billion dollars of transactions. Prior to joining Vision Investment Partners, he was the Founder of Courtfield Capital Management LLC and before that was an Associate at the London office of Forum Partners Investment Management LLC.
Fourat holds Bachelor of Science degrees in Industrial & Operations Engineering as well as in Economics, both of which are from the University of Michigan at Ann Arbor. In addition, he has successfully passed all three examination levels of the Chartered Financial Analyst (CFA) program.
Contact Fourat